---

---
Manatees are critters any Parrothead can identify with. Unassuming in appearance and lifestyle, they love nothing more than to lounge in the shallow waters of the mangrove swamps and graze on the underwater foliage. Unfortunately, their laid-back way of life has put them somewhat at a disadvantage in the fast lane of evolutionary competition, and they could use a helping hand from their landlubber soulmates.
Save the Manatees is one of Jimmy Buffett's favorite charities. In support of this worthy cause, Mayday, one of the original Key West Foreign Legionnaires, has a wonderful website through which Parrotheads can buy books from Amazon.com and have a portion of the proceeds go toward the adoption and support of manatees. Through this wonderful service provided by Mayday, six manatees have been adopted in the name of the Key West Foreign Legion. I encourage you to visit The Floatplan and shop in the Cruising Library. "Buy a book ~ save a manatee!"
And don't forget to check out his "For Parrotheads Only" link, for the story of the KWFL / Floatplan Manatee Adoption Project, and links and information of interest to Parrotheads.
Through the kindness of Mayday and the Key West Foreign Legion, a manatee named Flash was adopted in my name. I am forever grateful.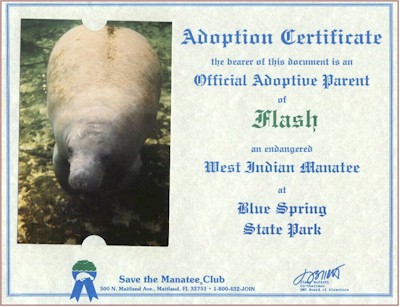 FLASH'S STORY
~ supplied by the Save the Manatee Club ~
Flash is a very large manatee who earned his name because of his extreme shyness. He will take off in a "flash" any time he is disturbed. Flash seems to have extra sensory perception when humans are in the area, and he is especially elusive when researchers are looking for him. Flash has also been observed crossing the boat channel at the spring run with unusual bursts of speed before slowing down. During the 1990-91 season, Flash didn't show up at Blue Spring for the winter. We worried about him, but his behavior was not unusual. Although individual manatees often return to the same wintering areas year after year, it's not uncommon for manatees to take a year off and travel to see new sights.
1998 ~ 1999
Thanks to an unseasonably mild winter, manatee season began about a month later than usual this year. Normally the season begins around mid November, but last year the first adoptee sighting didn't occur until December 15. On December 17, the boys were back in town! Flash arived with pals Brutus, Howie, Merlin, Lenny, and Margarito. Thankfully, Flash did not arrive with any new injuries this season. That's always great news. If you remember, last season Flash arrived with a slash to his right side, and during the month of February he had received some minor injuries to his face. Flash paid 12 visits to the spring this season (less than half of his impressive 26 visits last year). But keep in mind, it was a mild winter here in Florida. Flash headed out alone on March 6.
1997 ~ 1998
Manatee season began on November 6, and ended on March 28 this season. Flash first appeared at the spring on November 9, and he was a regular visitor to the park. Unfortunately, this was not a good year for Flash as far as injuries go. When Flash arrived for the season, ranger Wayne noticed that he had received a new slash on his right rear side. Flash did not visit the spring during the month of January; however, he did return in February. On February 11, ranger Wayne reported that Flash had received two new prop cuts on the right side of his face. Fortunately, all of these injuries were minor and Flash is fine. On a happier note, Flash's injuries appear not to have damaged his ego at all. In March, he was spotted pursuing the lively Hera, a manatee from Brevard County. He was accompanied by buddies Nick and Titonus. After an impressive 26 visits to Blue Spring, Flash bid farewell on March 15, along with pals Brutus, Dana, Floyd, Paddy Doyle and Success.
1996 ~ 1997
It was another early bird year for Flash. Just like last year, he showed up right at the beginning of the manatee season. He came in on November 13 and was just a bit behind the first manatee visitors to the spring. Flash was actually in a lot (for Flash that is). He made 18 appearances. For someone who has been known to make as many as 28 visits and as few as four, that's not too bad. Of course, he didn't even show up for the 1990-91 season! Ranger Wayne reported that Flash seemed to be very comfortable with the canoe, another milestone for our shy manatee friend. It was a warm winter and, on February 10, Flash departed. "This was a good season for Flash," said Ranger Wayne.
1995 ~ 1996
The manatee season at Blue Spring State Park this year ran from November 12, 1995 to March 26, 1996. Ranger Wayne said the best part of the season was having all the adoptees show up early in November, so he didn't have to worry about anyone. Flash would qualify in this category, since he has been known to scare Ranger Wayne before showing up for a season. Flash was just a bit behind the early bird manatees. He came in for the season on November 19 and was a real regular visitor at Blue Spring this year, making 23 appearances. March 24 was the last day any of the adoptees were seen at Blue Spring State Park. Flash was one of five manatees that left that day. His 1996-1996 visit to Blue Spring was the reverse of last year. Flash came early and left late - quite an accomplishment for our shy boy!
1994 ~ 1995
Flash is normally not known for making manatee roll call on a frequent basis at Blue Spring Park. However this year was different, and he surprised Ranger Wayne by showing up for 28 visits! Flash arrived at the park on December 13 and was spotted leaving the area on February 12 with Elaine. A late arrival and an early departure - but, all the same, we're just glad he showed up.
1993 ~ 1994
Flash came in on November 2 this year. Flash is often late - and sometimes doesn't show up at all - so it was good to have him come early. We are happy to report that he had no new scars. Flash made sporadic visits this season. He would make two to five roll calls in a row and then wander off for weeks at a time. Ranger Wayne noted that Flash was quiet when he was in, and that made it possible for him to see three old scars near Flash's belly because he wasn't moving very much. Ranger Wayne said that may not sound like much, but is important to note on Flash as he has so few scars. Flash left Blue Spring on March 3, after 16 visits. He put in the fewest number of appearances by an adoptee, but we are just glad he showed up.
1992 ~ 1993
Flash was a "Tail-End Charlie" this year, not showing up at Blue Spring until December 2. He suffered a largish notch cut from his tail, located about six o'clock on the paddle. He was counted 20 times this year, a record count for Flash!
1991 ~ 1992
The Flash is back! He came in with Margarito and Dana on November 10. He looked great. Quite the coincidence, Ranger Harley had just stopped to pick up SMC's Executive Director, Judith Vallee, and they were out in the canoe when they spotted him. He was in the exact same pose as his picture! He was in and out irregularly for the season and was only officially counted at roll call (morning nose count) 13 times. That's good for Flash. He headed out on February 3.
1990 ~ 1991
Flash didn't show up this year, but not to worry. It is not unusual for one of the manatees to take a year off and travel to see new sights. He is probably off pursuing some lovely lady down south.
1989 ~ 1990
Flash didn't break his previous record of visits (1987-88), but he did make it in 12 times this season. He came in November 19 and left December 18.
1988 ~ 1989
Because of the mild winter, many of the manatees who frequent Blue Spring were not observed as often as in past years. Flash really lived up to his name. He showed up on December 3 and left December 6, after making appearances on all four days. He was in and out like a flash! Ranger Hartley said he looked good, and he doesn't expect him back again until next season.
1987 ~ 1988
Flash was only spotted 16 times this season. He was the only adoptee that showed up and failed to stay the season, departing on January 18. He looked thin this year.
1986 ~ 1987
Flash came in late on January 2 and left January 9 after only three visits. He looked good.
1985 ~ 1986
This season Flash showed up at the spring on December 7. He was only credited with 13 appearances before departing with Merlin on January 31.
1984 ~ 1985
Flash sustained another injury to his tail. It consisted of three prop cuts, one at least 6 inches deep.
---