---

---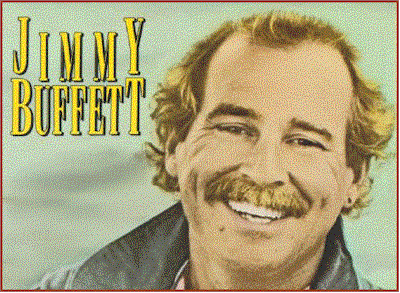 In the summer of 1977, I was living in Baton Rouge, Louisiana. Often on weekends I drove down to Thibadeaux to visit my sister. It was that summer, on the radio stations and the juke boxes of that town, that I first heard Jimmy Buffett's music. I attended my first concert in Baton Rouge the next spring and have missed only a handful of concerts over the subsequent years.
This corner of HALF AFT is dedicated to Jimmy Buffett, to the Coral Reefers, to the fellow Parrotheads I have met, to the musicians to whose music Jimmy's has led me, and to the lovely Florida Keys.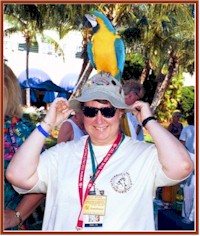 ~ GreenWoman, Parrothead ~
Meeting of the Minds, Key West, 2000
---
If you enjoy Jimmy Buffett's music, and would like to explore some other musical horizons that I believe you will find appealing, I invite you to visit the Half Aft Bar Stage.
There are many parrothead places on the internet. Here are some of my favorites:
Jimmy Buffett's Margaritaville, the official website; it offers news and other information, including tour dates, shopping, and lyrics.
Radio Margaritaville, where you can listen not only to Jimmy Buffett online, but also hear related artists, oldies, music from around the world, and interesting and informative commentary and interviews.
The Parrothead Webring is another good place to start exploring Buffett and parrothead websites on the internet.
Every fall for the past several years, Parrotheads in Paradise has organized a convention for Parrotheads called Meeting of the Minds. The convention showcases bands who play the kind of music Parrotheads enjoy, offers lots of fun activities, and raises money for charity. I attended for the first time in 1998, which was also the first year that the convention was held in Key West. Read about my adventure, and the best Jimmy Buffett concert I ever attended.
And if you're lucky enough to visit Key West, you might want to read Pacing Key West ... some of my favorite places in that lovely little town.
Some other links of interest ~
~ updated 1/4/06 ~

---
Son of a Son of a Web Page
A great source for things Buffett, including a searchable lyrics archive and links to scores of websites by and for Parrotheads.
~ link added 8/00 ~
The Virtual Parrothead Club
The only online Parrothead Club sanctioned by Parrotheads in Paradise.
~ link added 8/00 ~
Billy People's Tropical Dreams
Interviews, reviews, links, and other information by the head of the Parrothead Webring!
~ link added 1/06 ~
Southern Cross FAQ
Answers to all the "frequently asked questions" about SOUTHERN CROSS.
~ link added 8/00 ~
Mayday's Floatplan
Dozens of links of interest to sailors and parrotheads. Visit the Cruising Library and find out how to "buy a book ~ save a manatee!"
~ link added 9/00 ~
The Parrothead Shopping Network
Merchants who cater to parrotheads.
~ link added 9/00 ~
Kona.Com
For a macaw's-eye view of phlocking, info on parrothead-phriendly sites, and pics of trop-rock artists, check out Kona's site!
~ link added 1/06 ~
Foster Parrots Ltd.
Established in order to avoid the problem of euthanasia in the pet parrot population. This link provided by the Margaritaville mailing list.
~ link added 9/00 ~
Last Flight Out
Aviation-oriented clothing, books, and other memorabilia, with a focus on Key West.
~ link added 11/00 ~

Tiki Magazine
This magazine is a must-subscribe for parrotheads who love tikis! It has a focus on Tiki, Polynesian Pop, Hawaiiana and the Island Lifestyle, with articles on the best in tiki art, tiki bars, tiki festivals, and other such tiki-ana. Thank god the Tiki Magazine is open!
~ link added 12/06 ~
---
Key West is an amazing place. Check out "Pacing Key West", an article I wrote for the Virtual ParrotHead Club newsletter, which offers descriptions, information, addresses and URLs for some of the fascinating places you can visit. (updated 10/18/04)
Key West and the Florida Keys have much to offer visitors. Check out some of my favorite sites for information about Florida, the Keys, and points south and east, by visiting some of these links.
The Conch Republic
Discover Key West
Many great links to information on Key West and the Keys, including history, points of interest, travel information, etc,
~ link added 8/00 ~
Cap'n Ron's Florida Keys Adventure Guide
A fantastic guide to traditional stops and unique detours in the Keys. Be sure to visit the Cap'n's CafeMojo Webjoint & Jookatorium too, for everything you always wanted to know about barbque, tequila, and the other important things in life!
~ link added 9/00 ~
The Grand Guesthouse
A great place to stay in Key West. Tell them GreenWoman sent you!
~ link added 8/00 ~
LaConcha Cam
See the view from the roof of the historic La Concha Hotel on Duvall Street, live!
~ link added 8/00 ~
Nancy Forrester's Secret Garden
An amazing collection of rare plants and tropical birds ~ a beautiful oasis in paradise. Do not miss the opportunity to visit this lovely place.
~ link added 9/00 ~
The Save the Mantees Club
Learn about manatees and how to help save this endearing but endangered group of native Floridians.
~ link added 9/00 ~
Mel Fisher's Maritime Museum
Home to artifacts from the Atocha, the Margarita, and other shipwrecks salvaged by Mel Fisher, his family and his crewe.
~ link added 8/00 ~
Florida Keys Historical Timeline
The amazing history of the Florida Keys, in a chronological timeline beginning in 1513.
~ link added 8/00 ~
~ Captain Tony's Saloon ~
~ The Green Parrot ~
~ Sloppy Joe's ~
My three favorite bars in Key West.
~ link added 8/00 ~
Key West, Where Tequila Sunrise is a Way of Life
A fun and informative site on Key West old and new, including information on local events.
~ link added 10/00 ~
---
Information coming soon!
---
Manatees are an endearing but endangered species. Learn more about these native Floridians and how to help them, and see a picture and read the biography of Flash, one of six manatees adopted by the Key West Foreign Legion via Mayday's Floatplan Cruising Library, by clicking here.
The Key West Foreign Legion is a fictional group of parrotheads living on equally fictional Key Lime Key. Read about their adventures, and make a home for yourself in this one particular harbor.